Dec 18 2019 8:00 AM
We're not your father's Exeter Finance
With great respect to Oldsmobile, which left this Earth as a long-lived car brand over 15 years ago, we'd like to borrow a line from one of its most-famous ad campaigns. You may remember it was in the late 1980s when Olds sought a new and improved way to say its cars were new and improved. So, its TV commercials intoned, "This is not your father's Oldsmobile."
Now, here we are in 2020, and we want you to know we're not your father's Exeter. Like the car brand named for Ransom E. Olds announced in 1989, Exeter is proud to say we're new and improved as compared to the auto finance company we were a handful of years ago.
Take a look at these Top 10 differences between the Exeter of "old" and Exeter today.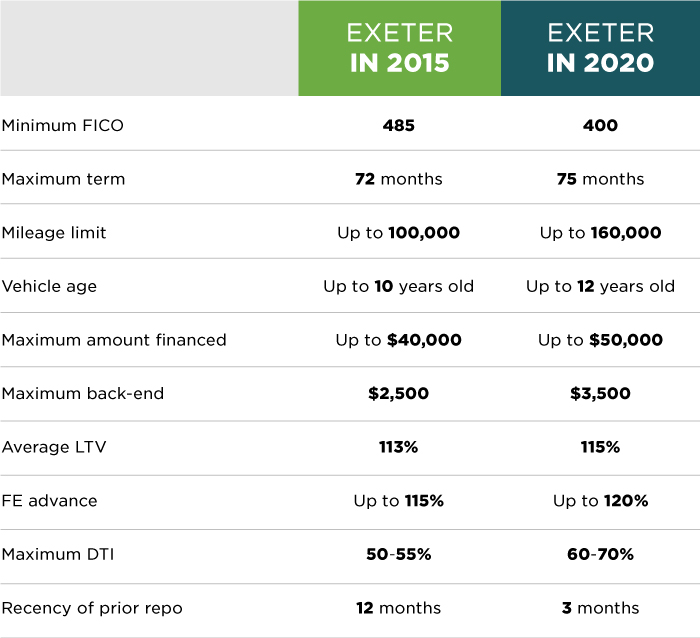 Over the past few years, we've retooled ourselves to meet more dealers' needs for a subprime auto finance company. We've listened to what you've had to say and tried to put together a program that works for you, your customers, and our company as well. We think the results have been solid, and our growth rate seems to back that up.
Today, more franchised dealers are working with Exeter than ever before. So, if we didn't meet your dealership's needs in 2015, we'd ask you to take another look. Check out the new and improved Exeter, and reconsider working with us now.
If you'd like to learn more about how we can help you, just call our Dealer Operations Group at 1-855-4EXETER (855-439-3837). Take a ride with us.
Source: The story of "not your father's Oldsmobile." Or how some really bad advertising changed the culture forever! (Oct. 8, 2008). Retrieved from https://godsofadvertising.wordpress.com/2008/10/14/this-is-not-your-fathers-oldsmobile-how-a-portfolio-tarnishing-piece-of-creative-changed-our-culture-forever/.
About Exeter
Exeter Finance LLC is a non-prime auto finance company headquartered in Irving, Texas. The company partners with franchised and independent auto dealers throughout the country to make car ownership a reality for consumers. For more information, call our Dealer Operations Group at 1-855-4EXETER (855-439-3837).